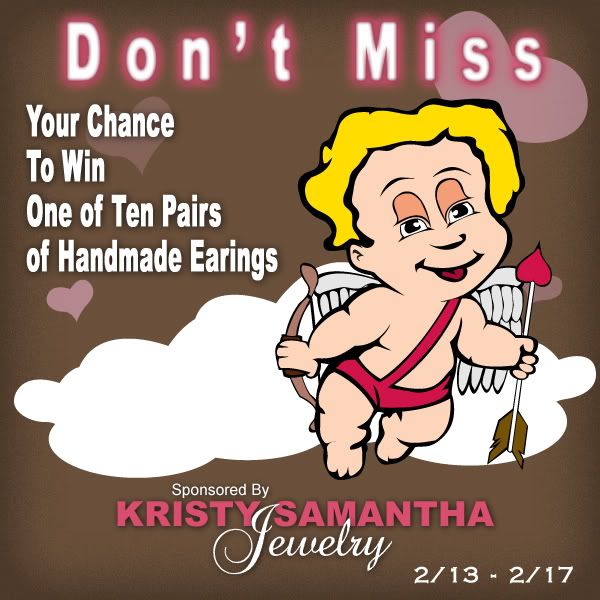 Cupid was passing by shooting people with his arrows, as he always does. He notice his arrows wheren't as effective as they use to be. He wondered . . . "Have people truly loss their joy:". He though maybe he could do something a little different this year to Spread the Love. He heard from his friends, Mother Nature & Father time, that the MyCouportiera team was moving to a new site. So it thought he would drop in and help us with the move.
February 13 – February 17
Cupid will be here helping Fans "SPREAD THE LOVE" as the Mycouportiera team moves in to their NEW HOME.
What to expect: Monday 2/13 – Friday 2/17
10 Lucky Fans are going to get a special Gift from  the Kristy Samantha Jewelry Line !!!! (Click the READ MORE BUTTON Below for Details) 
Click How to Enter the Giveaway :
 1) Share our Post on facebook 2) Comment on the Post on our new Site. 3) Like our Comments on Facebook 4) Say Hi to Kristy Samantha click here to go to her page 
1) Like Kristy Samantha Facebook 2) Fellow MyCouportiera on Twitter 3) Sign Up for MyCouportiera News Letter & a few more options
We bet you are wondering how do you know if

Cupid

has a Gift for you!!!!!
 Cupid Alerts will be randomly posted throughout the week on MyCouportiera's Facebook Page & Twitter Page and the Winners Circle. (If you do not respond within 48 hours Cupid will keep his gift for someone else.)
 Fans will be selected daily from the Raffle copter below